Madison Skelton, PA-C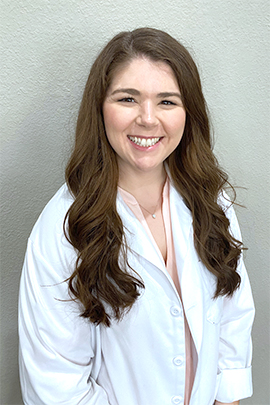 Biography
Madison was born and raised in Waxahachie.

She went to undergrad at the University of Texas Arlington, earned her Bachelor's degree in Biology, and graduated in 2014. Then, Madison went to PA school at the University of Texas Medical Branch in Galveston. She graduated in August 2020 and started working as a PA at WHSNT in October.

"I chose medicine because I believe it's my calling. My parents were also a major influence because they both had careers in medicine. My mother currently works as a respiratory therapist for Baylor Scott and White Waxahachie hospital for the past 25 years, and my father was a local chiropractor for almost 30 years. Practicing medicine is also a great privilege, and I am fortunate that I get to carry on my parent's legacies."

Madison specifically chose women's health because of the time she worked as a scribe for Dr. Williams and Dr. Morehead. She had worked as a scribe in other specialties, but it was a dream come true to work in a women's health clinic.

"I was blessed to be able to learn from them before I went to PA school. While in PA school, I still enjoyed learning about women's health, so I pursued a position working for my former bosses after I graduated. I admired how Dr. Williams and Dr. Morehead treated their patients; how they worked with their patients like a partnership. I model how I practice medicine after both of them. I also wanted to come back to WHSNT because of the friendships and camaraderie with the staff."

When she is not at work, Madison enjoys spending time with her family and friends, working out, reading, and working on the media team at her home church.